Episode 4
After our incredible journey from Rome, we slept like the dead and woke up eager to explore our new surroundings. Confident in knowing google maps would always leave us a virtual trail of breadcrumbs back to our apartment, we set out to check out our little town.
We are located in the foothills of the Apennines, at the base of a very large mountain. The town is one main road lined with businesses and clusters of neighborhoods on either side. And because this main road is also the main artery to towns in either direction, it gets a steady flow of local and regional traffic.
It's absolutely amazing the amount of traffic our short dead end street gets every day. Residents cars, delivery vans, garbage trucks, motorcycles – all whizz up the street, park end-to-end just inches from other cars and apartment buildings, then do a 15 point turn or simply reverse down the street when they leave. Either way, the reverse gear is used as much as the forward gears! And I love that delivery trucks honk their horn when they turn onto our street, alerting all the residents that someone's getting a delivery!
Being in one of these tiny neighborhoods just off the main road is an ideal location because we can walk to wherever we need to go. And walk we do! In the time we've been here we average about 3 – 5 miles a day. And on days we go to visit other towns or sites, we can easily rack up 7- 8 miles. Who needs a gym, right?
It's surprising the variety of businesses here and I could spend hours in each one of them just poking around, checking out their offerings. From the street, most storefronts are just a doorway with little signage indicating what type of business it is. I guess the shopkeepers feel signage is unnecessary as everyone here knows where their store is and what they sell. Some stores do have windows with displays, but not many. As a way to familiarize ourselves with what is on offer here, our daily walks include stopping every so often to translate the signs and determine if this is a businesses we might need. Stores we visit every day or so are the local
groceries. There's one on either end of town and we use both because each of them offers certain things the other doesn't. Sounds inconvenient, I know, but it keeps us active because if we want to eat, we must walk! In addition to picking up things we need, and getting our exercise, there's no better place to work on word recognition and practice our verbal skills!
We've introduced ourselves to many residents who, not knowing our reason for being here, find it both shocking and fascinating that we would leave California to move to their little town. We make new friends most every day because I make a point of introducing myself ('Mi chiamo Anna') and asking them their name ('Come ti chiami?'). A slender, quite elderly Gentleman invited himself to our table one morning as we were enjoying tea at a sidewalk cafe. He was impeccably dressed in a bright red sport coat, white linen trousers, white wing tips, and a snappy fedora. He neither spoke nor understood one word of English, but that didn't stop him from entertaining us with a steady stream of Italian until our waitress came over and told him to quit bothering us. Like us, he likes to walk all over town and we see him regularly, always smartly outfitted in colorful, exquisitely made attire. He could easily be a walking mannequin.
And like playing 'Where's Waldo', I secretly hope to catch sight of him each time we're out, eager to see what he's wearing that day. We later learned he is 94 and was a tailor all his life!
Since every morning we ventured a bit further down the main road Checking out the various retail stores, restaurants, coffee shops, and services, it doesn't take long before we've walked clear through our town and into the next! Having familiarized ourselves, by then, with everything on the main road, we branched off and started exploring the neighborhoods on either side. We had thought the main road was interesting, but exploring all the little neighborhoods was fascinating. Every few yards, it seemed, was yet another opportunity to stop and stare in amazement at the architecture, the street signage, even the cobblestoned
streets. The fact that most streets are only a block or so long and go off at different angles, makes exploring the neighborhoods all the more fun. And since the town is small, we can't get lost, at least not for long!
Our daily walks also provide perfect opportunities to check out all the local caffe/pasticcerias for a tea and pastry as well as make new friends. So for under 5€ we get two teapots of boiling water, a marvelous selection of teas, and two scrumptious pastries! (Beat that Starbucks!)
But, as we quickly found out, exploring our town and stopping for a leisurely tea must be finished before 1pm or we will encounter riposo!
Riposo is the early afternoon shutdown of businesses and usually lasts from 1pm until around 4:30. With the exception of grocery stores, if you need to buy something, get something serviced, or, heaven forbid, you're hungry during this time, you're flat out of luck! You can see it coming! There's a huge increase in foot and street traffic around 12:30pm: streets and
sidewalks are congested and everyone seems to be in a rush. Then in the blink of an eye, the place looks like a ghost town. Overhead door shutters are pulled down, doors are locked, and all the traffic and people disappear. If you happen to be sitting on a bench along the main street at this time, you'll be in awe watching how fast this all happens. One moment it's pure chaos and the next you're listening to nothing but the sound of your breathing. And it stays that way for several hours before slowly opening up again. One thing I've not gotten use to seeing is how many shopkeepers leave their keys hanging in the door lock once they reopen.
All I can say is that it's a safe little town.
Every Tuesday is market day – the day local and regional vendors line up along one of the closed off neighborhood streets and set up their open air mini stores.
They park their big trucks and vans end-to-end along the curb and as far as you can see down the length of the street.
The really big trucks hold large cabinets of inventory, some of which can be rolled out to form part of their store area. In the blink of an eye, awnings are erected overhead, tables and bins put in place, and product displayed. And since our town is only one of several they visit every week, they have this routine perfected to an art.
On our first visit, we marveled at the sheer number of vendors. Winding far down the street, the stalls seemed endless!
To start, there's every type of clothing, shoes, and accessories for men, women, and children all displayed overhead and on rolling racks and attractive displays.
Then comes electronics, housewares, linens, fabrics, and so on.
On the opposite side of the road is displayed every possible food product you can think of. Seafood alive and so fresh it'll wink at you; every conceivable type of produce in season, forty types of nuts and olives, fresh baked breads still warm from the oven, all manner of candies, cookies, and pastries.
Honestly,it's like an open air grocery – only better!
And while I enjoy browsing all that's on offer, I must confess my favorite section of the market is at the end where there are long tables marked 1€ and piled high with an assortment of clothing, linens, and such. It's here I scored a beautiful quilt, lovely kitchen towels, and a gorgeous silk/French terry robe in a Pucci print for myself.
It's become our Tuesday morning ritual. Here we can buy a pastry and a coffee, then spend our morning strolling past the lengthy line of vendors offering everything we don't realize we need until we see it!
NEXT UP: This way to Pompeii!!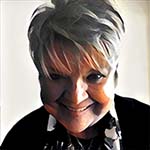 Ann Kucera is a freelance writer living and enjoying life with her husband in southern Italy