by Ann Kucera
Episode 3
Once we arrived in Italy, it was our decision to always use public transportation, whenever possible, to avoid driving. Catching a bus from the airport seemed an easy and inexpensive way to get to the Rome train station so after collecting our luggage, we made our way to the far end of the terminal to purchase tickets and wait for our bus. Destination signs on buses here list only the areas they service which is useless if you don't know the area. So using our new Italian word 'termini', we purchased our tickets and hoped they had understood that we wanted to go to the train station in Rome.
When a sleek new bus pulled up to where we were waiting, we quickly stowed our suitcases underneath, happy to be luggage-free for a short time. But as the bus doors opened, I stood slack-jawed as I peered up the two story staircase I would have to scale if I wanted to ride.
While this was not our first trip to Rome, it was our first time entering the city in a two story bus. Arriving in this city is always a surprising experience. One minute you're traveling through open country, then for a few minutes you navigate around areas of small buildings before turning a corner and suddenly you're in the middle of magnificent buildings and ancient ruins!
Rome's train station, Roma Termini, is truly a wonder to behold. It's one of Europe's largest train stations with 29 platforms providing daily service all over Italy and Europe.
With multiple levels of shops, restaurants, ticket offices, travel agencies, currency exchanges, post offices, and even a grocery, it's a destination unto itself! And it's also a bus station.
Wanting to take some time to adjust to the time difference and recover from our flight, we had booked three days in an Airbnb close to the terminal. Our host had provided us with directions and even a map (in Italian) showing the easy, direct route from the terminal entrance. Little did we know our bus had dropped us on the side of the terminal rather than the front. So using our map, we set off steering our 50 pound suitcases around potholes, up and down steep curbs, and over ancient cobblestones…. in the wrong direction!
After 20 minutes of unsuccessfully wandering a 12 block area trying to match street signs with the map, we sought help from a pedestrian, a storefront clerk, a police officer, and even a garbage truck driver, all of whom pointed us in different directions. In desperation, we flagged
down a DHL courier who finally got us on the right track. It was as we approached our destination we observed that the street names change every block or so.
Along with the map, our host had provided very detailed and involved instructions for entering the building and then equally complicated instructions for entering our unit. Flushed with relief once we had managed all those various locks and devices and were now finally in our
apartment, the feeling was short lived when it occurred to us that we must go through this process each time.
Exploring the neighborhood in search of sustenance, we observed just how rigid Italy is on preventing the spread of the virus. We must show proof of vaccination to enter any type of eating establishment and everyone here wears a mask, without exception. In fact, the city is peppered with vaccination tents amid all the ruins.
One of our days here was spent on a hop on/hop off bus touring the city. Previously we'd just walked our way through the ruins and around the famous sites but now, with the tourists mostly gone, this bus would give us a relaxing tour of everything famous and familiar plus an introduction to the various neighborhoods. Perched top-side in the front row of the double decker bus, I took full advantage of my unobstructed view to soak in the sites again while at the same time filling my phone with spectacular photos. And watching our bus driver navigate the behemoth around hairpin turns, through tight alleyways, and passing within inches of oncoming traffic and parked vehicles was both heart-stopping and well worth the cost of the ticket.
Far too soon it was time to head south to our new temporary home in a small town east of Naples where we would continue having our citizenship paperwork reviewed and processed.
While pushing 50 pound suitcases over ancient streets is certainly not easy, it did seem doable as we were only a couple of blocks from the termini. Fortified with a cup of thick brew, we bought tickets for a train leaving in 8 minuets, found our platform, and waited…on the wrong platform.
When it was obvious something was wrong, a station agent who spoke English informed us the next train for Naples would be leaving soon on another platform but first we would need to exchange our tickets for new ones. Soon enough, however, we were aboard the right train heading in the right direction and could relax for a bit.
Arriving at the train station in Naples, Napoli Centrale, was familiar as we'd used this station before. The last leg of our trip required transferring to a small regional train and should have been a piece of cake: simply buy a ticket for the station closest to our destination and hop aboard. Except in mispronouncing our destination's name, we were ticketed to a town with a similar name and directed down two flights of very steep steps to wait on a platform all the while dragging our 50 pound suitcases. Once there, a kind gentleman informed us we were on the wrong platform, that our platform was the next one over. To get there would require dragging our luggage back up all those steps and then back down the same number of steps to the other platform. I have to admit, for a few seconds I contemplated dropping down to the tracks and over to the other side rather than face the steps again. If there are elevators anywhere in this station, they are very well hidden and probably for employees only.
Having maneuvered these suitcases up and down far to many steps, we took comfort in knowing that once aboard, we would be able sit for awhile as the train sped us toward our destination. Our train arrives, packed with commuters. We shuffle aboard and squeeze in our luggage. The train takes off and we scan the graphic map over the doors searching for our destination. Commuters watching us searching, make out our dilemma, and quickly indicate we must get off and return to the station – we are on the wrong train!
We get off at the next stop, look around, and realize the only way to get to the platform on the other side is to go under the tracks. This means another two flights of steep steps down and then back up. It's at this point – as we're descending the steps gasping for breath – that an angel appears in the form of an energetic, young, English-speaking station agent. He takes one look at our exhausted state and insists on carrying our luggage. Picking up one suitcase in each hand, he walks them down and then back up to the other side. I admit I was so teary-eyed with appreciation I could barely get myself down and up the steps! Gushing with gratitude, we spent a very enjoyable 20 minutes chatting with him until our train came and carried us back to the Napoli Centrale.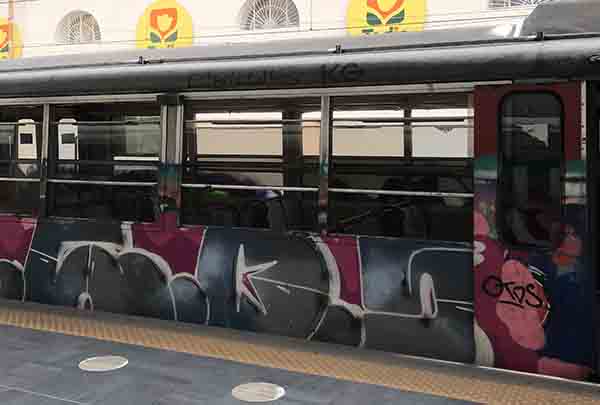 Back at the station, we realized our trouble had been caused by our mispronunciation of our destination. Then – the appearance of another angel – this time in the form of an older station agent who spoke no English but realized from our bedraggled appearance we really needed
help. He made it his mission to first find me a seat where I could wait, then using mostly hand gestures, he indicated for us to not exit the gate into the terminal but rather to wait where we were until our train arrived. Once it arrived, he made sure we were on it!
Now secure in the knowledge we were finally on the right train, I phoned our translator who was waiting to pick us up at the station on the other end. She and our new landlord were all smiles seeing us exit the train and made quick work of loading our luggage and whisking us away to our new apartment.
As a way to celebrate the end of a very long and eventful day, we had an excellent dinner at a local restaurant. The food was so good, if I'd had a tail, it would have been wagging!
Next up: Being able to walk from one end of our new town to the other end without breaking a sweat!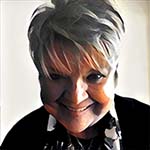 Ann Kucera is a freelance writer living and enjoying life with her husband in southern Italy