Rocco Francis Marchegiano, worldwide known as Rocky Marciano or the Brockton Blockbuster (September 1, 1923 – August 31, 1969), was one of the most famous boxers ever. First interested in a professional baseball career, Marciano began to box while in the U.S. Army during World War II. Marciano was the World Heavyweight Boxing Champion from 1952 until mid-1956. All this despite he had the shortest reach of any heavyweight champion at only 173 cm. He was also not too tall for a heavyweight champion, standing 179 cm.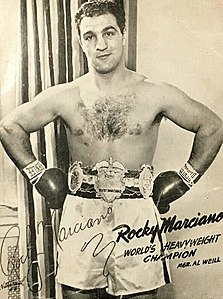 He was of Italian origins, his father Pierino Marchegiano was from Abruzzo (Ripa Teatina) and his mother Pasqualina Picciuto was from Campania (San Bartolomeo in Galdo). His beloved mother didn't like boxing at all and she never saw one of his matches (people say that she usually went to the local church of Brockton in order to pray each time he was competing).
Italy was Rocco's dream and when they call him in Rome to be part of a boxing convention in 1946, he soon decided to visit his father's hometown, Ripa Teatina near Chieti (about 200km far from Rome), looking for his Italian roots. At Ripa Teatina they welcomed the champion, whose centenary of birth occurs today, with all the honors of the case. They prepared him a "porchetta" (a tasty and delicious sandwich filled with pig meat); Rocco found "porchetta" so good that when they offered him a second one for the next day, he changed his plans and stayed another night in the area. In his ancestors' village he spent happy hours, toasting with his "paesani" (villagers), having a coffee, even trying to be a talent scout with a local boy, almost two meters tall, who has come to see the champion. He promised he'd be back soon and longer. But, in 1969, on the eve of his 46th birthday, Marciano was a passenger in a small private plane. It was at night and bad weather set in. The pilot tried to land the plane on a small airfield outside Newton, Iowa, but the plane hit a tree two miles short of the runway. The passengers died almost instantly.
He is entombed in a crypt at Forest Lawn Memorial Cemetery in Fort Lauderdale, Florida. His widow, who died five years after him at the age of 46, is entombed next to him.