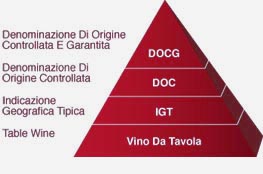 VdT: Vino da Tavola
A basic wine made in Italy.(table wine)
IGT: Indicazione Geografica Tipica
A wine from a specific Italian region. This appellation was created for wines of higher quality than simple table wines, but which did not able to reach DOC appelation
DOC: Denominazione di Origine Controllata.
DOC denomination refer to specific zones (more than an IGT), specific rules and specific grapes.
These rules are designed to preserve the traditional wine-making practices of the individual regions: it means that different wines have different rules of production.
The DOC system began in 1963, seeking to establish a method of both recognizing quality product and maintaining the international and national reputation of that product.
DOCG: Denominazione di Origine Controllata e Garantita
DOCG entry needs more requirements as limits regarding the production of grapes per hectare and minimum natural alcohol levels, among others.
DOCG wines must pass an evaluation of a tasting committee before they can be bottled.