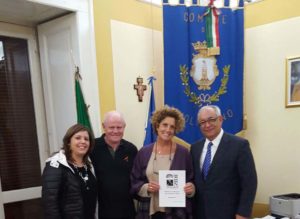 At ItalianSide, we are ready to arrange for you a perfect mix between tourism and personal history in your travel back to your roots.
With the experience of our selected local tour operator, you will have the opportunity to spend your italian time in your ancestors village, living there the everyday life, discovering familiar places, forgotten flavours and why not? meeting your distant relatives who live in your Italian homeland.
Would you like to visit places, villages?
Would you try to meet people, old friends, distant cousins?
Would you search for historical documents in archives of your ancestry town?
Just ask us.
We will help you to plan your trip entirely around your wishes, interests and capabilities.
ItalianSide, in collaboration with local authorized travel companies, offers you a wide range of services you can choose from, including:

- detailed planned tours;
- tourist guides;
- escorted ancestry tours;
- booking typical restaurants, hotels, museums, craftworkers...
- genealogical resarches "on site";
- help/emergency services;
- rent a car (with or without driver);

and… whatever you think you could need in your travel to Italy!

Want to know more about our services?
would you like to tell us something about your italian trip?
Contact us at infotours@italianside.com