It is unanimous with my sisters and me; this trip was our best travel experience ever.
We don't always travel together, but have traveled in the US and Europe many times.
In considering what made this trip so special, it did not come to me all at once. In reflection, a few things you may not consider led to a great adventure.
There was no stress related to our daily excursions.
At least 90% of the cost was paid in advance.
Our lovely hotels provided half board and we always knew where we would be eating dinner. Our meals were delicious.
A private tour guide; no waiting for 30-40 people to gather.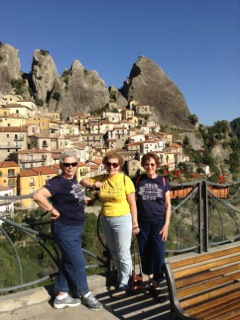 Our tour guides were knowledgeable and fun to be with; our activities were interesting, fun and never rushed.
This is a very creative type of tour - the cooking lessons, the winery, the cheese and salami lunch - great experiences.

The beautiful scenery and churches all very nice. Then there was the excitement of being in the area where our grandparents were born and married; touring their church of matrimony, walking the streets where they walked and visiting the records office where we found birth certificates was very personal.
There we found some information for which we were not too proud. (Our great grandfather was sentenced to hard labor for life.)
Though, we are told by family members that he was released by the Queen.
Did Italy have a Queen in those days?

I must tell you, that this trip came about with a question from my sister asking me for the wedding date of our grandparents.
My web search led me to ItalianSide.com who provide me with the date and wedding certificate.
That was just information. We wanted to see the land of our roots. ItalianSide led us to Dora, our tour guide and trip planner.
This led to a wonderful trip and many fond memories.
Our Cooking Lesson

Christine Nole Evans