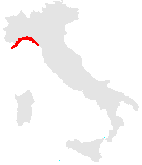 The following products are typical from Liguria region.
They are identified and recognized by Italy and European Community as
Denominazione di Origine Protetta (DOP) or Protected Designation of Origin (PDO) and Indicazione Geografica Protetta (IGP) Protected Geographical Indication (PGI).
| Denomination | Category | Type of product | Provinces |
| --- | --- | --- | --- |
| Acciughe sotto sale del Mar Ligure | I.G.P. | Fish, molluscs and shellfish dishes | Genova, Imperia, Savona, La Spezia |
| Basilico Genovese | D.O.P. | Fruit, vegetables and cereals | Genova, Imperia, Savona |
| Focaccia di Recco col formaggio | I.G.P. | Baked goods, biscuits, pastries | Genova |
| Riviera Ligure | D.O.P. | Olive Oil | Imperia, Savona, Genova, La Spezia |
| Vitelloni Piemontesi della coscia | I.G.P. | Fresh Meat | Savona, Imperia |
Curious to know more about other typical delicacies, less famous but very tasty, from Liguria ?
Take a look at
traditional food products
of Liguria , officially recognized by the Italian Ministry of Agricultural, Food and Forestry Policies.
Would you like to know more about these typical flavours from Liguria?
Contact us at liguriafood@italianside.com and we will try to answer to your questions!
Are you interested in best wines of Liguria? (as you noticed there is no wine in the previous list) Here is the wine list!