Train rides are no biggie for me. I've ridden trains since I was about 10 and would take the train to visit cousins for the summer. I remember those rides as being mostly irritating because the train would just get going only to stop and let people on and off as it slowly made its way the 150 miles to my destination. To my young self, eager to see my cousins, the journey took forever. I also recall the seats being quite uncomfortable and the whole train stinking of human odors and cigarette smoke.
Over the years, trains did improve a bit, but never to the point where I ever looked forward to the experience. To me, they were simply another option of getting from point A to point B, like buses.
Six or seven years ago, my husband and I took Italian trains when we crisscrossed the country on a vacation. And while they were clean and fast, the experience was hardly worth writing about.
So, when we were planning our Christmas trip from Naples up to Milan and Florence, we discovered that a high-speed train could get us there almost as fast as flying. Plus, the idea of avoiding airports, especially at Christmas, was quite appealing. When we learned the price of a special offer for 3 trips in 7 days, we were sold!
I sincerely hope someone from Trenitalia reads this because trying to book this offer online was an absolute nightmare. I'd like to think the site was simply experiencing temporary problems, but no. Even their online customer service reps had issues. But thanks to Joe's perseverance and his fluency in Italian, he finally succeeded in registering us online as customers.
Hoping to avoid any more complications, Joe recommended us buying our tickets at the physical train station. It was here, after the window agent was finally able to access the Trenitalia information, that we learned we qualified for senior discounts and decided to upgrade our tickets. On the day of departure, standing alongside the business-class car of this awesome bullet train, I could barely contain my excitement and decided to give Trenitalia a break.
One thing I will say is they are no-nonsense about Covid! If you aren't wearing an FFP2 NR face mask, you won't even make it on the platform, much less on their train.
Once aboard the sleek Frecciarossa (Red Arrow), I was surprised to see we were the only ones in our car. Joe had told us that most Italians travel from North to South during the holidays, so I guess that accounted for so few riders. Whatever the reason, I was delighted at the thought of being removed from crowds during our 5-hour journey. Once comfortably settled in my oversized, soft leather seat, I oriented myself with all the buttons and switches available for making my journey even more comfortable.
Once we started moving, I realized the huge panoramic window next to me would allow me to photograph the scenic countryside we would pass through. And should the sun be too bright, a switch at my fingertip would adjust the window shade to my liking.
We were still moving out of the railyard when a very tidy, uniformed attendant pulled her cart alongside us and began serving coffee and fist-sized panettone all while pleasantly chattering away. She would visit us numerous times throughout our trip, each time with fresh masks, hand wipes, bottled water, beverages, and snacks. It felt a bit eerie being the only passengers in our car, but nice.
We were out of the railyard now and moving swiftly through the outskirts of Naples. It's early morning and most neighborhoods still have their Christmas lights twinkling so we gaze in wonderment at the lightshows while we sip our coffee.
We're picking up speed considerably, but being distracted by my breakfast, I'm not looking outside until my husband informs me, we're going something like 260 kilometers per hour.
WHAT????
A quick glance at the blur outside my window and my jaw drops. That can't be right. That's like 160 mph. He points to the monitor overhead where the current speed displayed in the corner of the screen is steadily increasing.
Glued to the screen now, I jump when the display is suddenly replaced with real time footage from cameras mounted outside the train. It's like something you'd see in a movie and, frankly, when you think about the fact that it's you as well as the train that's moving that fast, it's a tad scary.
The numbers continue to climb until they hover around 300 kph. A quick check on my phone tells me we are running at 187 mph and the smear of landscape outside my window confirms this.
The only thing recognizable in my view are the mountains in the distance and even they are clipping along at a pretty good rate. I quickly forget about taking photos as they would just be a waste of time.
In the time it takes to finish my coffee and one card game, we are pulling into Rome. Our car now has another passenger, but I know this only because I saw them take their seat at the far end, so it still feels like we've got the car to ourselves.
Ten minutes later, we're back in the countryside and hitting our stride. Next up is Firenze (Florence), Bologna, and finally Milano (Milan). Each station stop is an opportunity to visit the facilities onboard without trying to wash up and other things while zipping along. The station stops are also a time to see things in focus outside our window.
Allow me to digress here with a couple of observations regarding trains and train stations in Italy:
The train stations are like miniature cities with nice selections of eateries. Except for McDonald's, you won't find any fast food.
The stations are always extremely clean and easy to navigate.
There are always enough courteous station agents around to assist you and enough ticketing machines so there are never lines.
Everything works. It's rare to see 'out of order' signs.
The station restrooms are easy to locate and because you pay 1 euro to enter, they are always clean and well stocked.
There are plenty of Arrival/Departure boards and clocks scattered throughout the station, you need only look up.
The trains arrive and depart on time. Let me repeat that: All trains arrive and depart on time!
The trains are very clean, inside and out. They must wash them routinely because you don't see dirty trains.
Just outside the stations, you'll always find friendly, courteous taxi drivers with their clean taxis waiting to help you.
You'll also find clean buses running routes next to the stations.
Such an extraordinary train experience deserves recognition as well as my repeat business, so I have forgiven Trenitalia for their website having issues. After all, we all have our 'off' days. Trenitalia's Frecciarossa service is par excellence!
All too soon, we arrive in Milano and the end of our ride, for now. I leave our rocket-train with a smile on my face because, like Captain Kirk, I now know what it's like to hit warp speed!
NEXT UP:  Magnificent, majestic, marvelous Milan!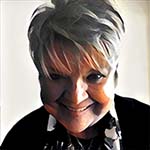 Ann Kucera is a freelance writer living and enjoying life with her husband in southern Italy