Decades ago, I started a bucket list and one of the first things I put on it was 'see Milan.' Over the years, I've been fortunate enough to have accomplished most everything on my list, but 'see Milan' wasn't one of them…. until a few weeks ago!
A two-week Christmas break from language school seemed the perfect time to visit Milan. While finally seeing this city would be a dream come true, seeing it at Christmas would be nothing less than magical. And what better way to get there than aboard the high-speed bullet train!
Our Christmas Eve 'rocket ride' to Milan was truly breathtaking but, having spent 5 hours sitting, we decide a walk to our hotel will be a welcome relief. Christmas Eve is the perfect time to see this city, all aglow with holiday lights, and we're anxious to start exploring what will be our 'home' for the next 3 days. It's dark now and everywhere we look the streets and buildings are festooned with every conceivable type of holiday décor. Captivated by all we see, and with the fantastic light displays luring us down the street, we set off walking in the direction of the Duomo.
Each block is more enchanting than the last and with the store window displays so fascinating, I'm compelled to spend a few moments in front of each simply gazing in wonderment at their beauty and creativity. Milan is home to almost 2700 fashion houses and clothing companies, each competing for your business, so it's no surprise they go all out with their Christmas windows. It's a feast for my eyes and I want to capture each display on my phone to admire later.
It's getting late, yet we continue walking, pulled into the flow of masked pedestrians all, it seems, headed in one direction. In the distance, a glow appears above the buildings in front of us and soon I see the spires of the Duomo piercing the inky sky. Each step brings this grand cathedral closer and soon my eyes are filled with its brilliance. Majestic and unmistakable is its beauty. Its lighting highlights the incredible detailing on its facades as well as its spires soaring heavenward.
The Duomo shares the piazza with the equally magnificent Galleria Vittorio Emanuel, Italy's oldest shopping gallery. The Galleria is a four-story, double arcade housing 5-star restaurants and fashion stores most of us can only afford to window shop. Even so, it's marvelous to be able to stroll through here craning your neck to admire the airy domed glass ceilings, ornate architecture, and incredible frescoes. With the arcade's interior facades beautifully lit in soft golden lights, all the fantastic architectural details stand out and it's hard to pull my eyes away. Combined with the domed ceilings, now gloriously glittering with, what looks to be, millions of lights, the effect couldn't possibly be more enchanting. At the intersection of the double arcade, and anchoring all this visual eye-candy, is the massive Swarovski Christmas tree heavily embellished with their trademark crystals.
On the piazza outside, circling the Duomo, are the stalls of a huge Christmas Street Market where business is now brisk. The air is electric with the buzzing calls of merchants busily vending their wares mixed with amazing street musicians busking joyfully. An enormous lit tree stands guard between the Duomo and the Galleria, dazzlingly competing with their brilliance. And it's here on this piazza, that the entire city, it seems, has turned out to show their Christmas Eve holiday spirit!
My retelling of our Christmas Eve walk wouldn't be complete without describing the unbelievable, illuminated decorations spanning the streets and lanes, outlining doorways and overhangs, and in some cases, covering whole buildings. These aren't your usual holiday decorations, mind you. These are exquisite examples of outstanding creativity all lit up!
Our walk back to our hotel takes us through the flamboyantly lit, quirky, artist's area of Brera. Here we see charming antique and art shops, colorful street markets, and an assortment of fabulous restaurants, bars, and nightclubs, as well as fortune teller's stalls. It's nearing midnight when we finally collapse in our hotel room. I knew we had walked quite a way but when I see that my phone's pedometer registers 8 miles, I decide tomorrow will definitely be a 'slug day'.
Christmas morning and all is quiet on the streets below our hotel window – not a single soul in sight. With everything closed, we spend the day resting – recovering from our marathon walk last night. All's fine until we decide to have a late lunch in the hotel restaurant and find our only option there is a fixed price, 7-course Christmas dinner. We hit the streets in search of sustenance but, finding everything shuttered tight for the holiday, we head for the train station where we know McDonald's will be waiting with a holiday meal of hamburgers and French fries! And an evening line-up of Italian movies completes our unique Christmas Day in Milan.
The hotel's concierge tells us we will not be able to see "The Last Supper" today. The soonest would be sometime well into the next year, with a reservation. So we save this for our next trip when we will have more time to visit the museums now closed for the holidays or the virus, or both.
Dawn brings with it the bustle of a city busily getting back to business as delivery trucks make their rounds and shops rush to put up their 'after Christmas' sale signs. Even though the weather is ideal for walking, we take the Metro, conveniently located just outside our hotel, down to the Duomo station where we jump at the chance to board a double-decker, sight-seeing bus for four hours of touring all the major areas of the city.
Since we're the first customers, we climb up to the top deck and claim the front row seats. Sitting in these seats is like seeing the city from a low-flying drone! Turns out we and one other couple sitting far behind us are the only passengers on the upper deck. Comfortably seated with an earphone audio providing detailed information on all the places we pass by; I settle back as Milan slowly reveals her charms and a lifelong dream of mine becomes a reality.
Being Winter now, the leafless trees allow a perfect view of this historic city and a light fog off in the distance gives the streets an even more romantic feel. Seated so high and being so close to the buildings we pass; our vantage point gives us an opportunity to really appreciate all the distinctive styles of architecture. We first tour the city-center where most of the famous places people associate with Milan are located, before widening our tour to encompass a much larger portion of the city.
We pass the world-famous La Scala Opera House, and the Santa Maria delle Grazie church where the 'Last Supper' is housed. We circle the huge Castello Sforzesco, once home to the mighty rulers of Milan but now housing Milan's Civic Museums. Inside the complex, in addition to the splendid collections of ancient and modern art and richly decorated furnishings, you can also see Michelangelo's Pietà Rondanini and the Sala delle Asse, which features an amazing vault decorated with frescoes designed by Leonardo da Vinci. I make note of each of these places as ones we will explore at leisure on a future visit. We enter the famous hub of night life known as the Navigli district. This network of canals, perfected by Leonardo da Vinci, is lined with chic bars and restaurants. Next up is what's known as the Green Area. Riding through these upscale neighborhoods, filled with sleek, modern residential buildings and beautiful parks, it's hard to imagine this futuristic area is part of Milan. It's here you'll find the very luxurious and expensive, high-rise residential towers known worldwide by their distinctive twisted, spiraling, and curved designs.
It's obvious this is just the first of many trips we'll make to this romantic city. I can even imagine us spending several months here just taking our time to fully explore all the fascinating neighborhoods we're seeing now. How wonderful will that be? Taking days to leisurely make our way across the city, checking out all the gems hidden behind these ancient facades, sounds like a perfect way to spend the Springtime months.
Dinner at a neighborhood café just off the Duomo piazza provides a chance to people-watch and experience life outside the tourist sector and where we're entertained by our very animated waiter eagerly offering his view of what it's like to live here.
Milan's underground Metro stations, like those in most major cities, are labyrinths of tunnels, escalators, passages, and multi-level platforms. What surprises me is the variety of stores inside these underground passageways: pharmacies, convenience stores, retail stores, I even saw an art gallery!
It's late afternoon now and upon entering our hotel room, our ears are filled with the most beautiful music coming from the piazza just below our third-floor room. I quickly open the window and shutters and grab my phone to capture this moment. The video I make reveals people on the street below calming going about their day while this exquisite music fills the air like a Dolby sound system. I can't locate the source of the music and can only guess it's coming from speakers along the street, but if I close my eyes, the music is so resonant, I have the sense of being in a theater surrounded by a full orchestra. I stand, transfixed, through this piece and one other before the music stops, and I'm left feeling I have just experienced something quite unique which serves to make my visit here even more special.
Our final morning in this magical city finds us packing up for the next stop on our journey, Florence (Firenze). We check out of our hotel and leisurely wander in the direction of the train station but, along the way, decide to stop for lunch at an old, very well-established restaurant, brimming with character. The food and service are what I would expect in a restaurant such as this, but the presentation is nothing less than spectacular!
So, while I'm now finally able to tick 'see Milan' off my bucket list, instead, I draw a line through 'see' and above it, I write: 'spend a Spring in'.
NEXT UP:  A stopover in Florence to visit David…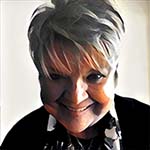 Ann Kucera is a freelance writer living and enjoying life with her husband in southern Italy