(part 1)
A bad case of cabin-fever has us scanning our map for a new destination to explore. We soon settle on one of the few areas of southern Italy we have yet to visit: the Amalfi Coast. These mild spring days, with their gentle breezes, will be the ideal time to explore this area before the summer crowds arrive and the weather gets hot.
As is always the case anytime we rent a car for a trip, we first spend a day shopping at our local stores to replenish our bulk supplies and water inventory. While these stock-up trips every few months spare us having to carry heavy items from the grocery, it also means our apartment could be mistaken for a small Costco.
With the shopping done, we head cross-country for the coastal town of Salerno, about an hour drive from us. Rather than take the Autostrade (Italy's expressway system) we choose the scenic backroads, which will take us over one of the tallest mountains in our area. Google has mapped out our secondary route through a neighboring village and directs us to turn down a somewhat narrow residential street of two-story houses. How can this be right…? We turn and slowly continue down the quiet street. Soon the houses end, and the little two-lane road starts a steep and immediate 45-degree angle up then disappears into a dark forest. The incline is so steep, it reminds me of that first colossal climb of a roller-coaster ride! Instantly the temperature drops, and we are treated to a delightful drive through lush, towering trees which intertwine overhead giving us an invigorating drive through a long shady tunnel.
We seem to be the only car on this road and for miles we gently sway back and forth adjusting ourselves as we navigate the steep mountain curves. Gauging from how long we've been on this steep, steady climb, we must be nearing the summit, but the dense foliage prevents us seeing what I can only guess would be an incredible view out over the valley. We're still climbing but now the towering trees have given way to miles and miles of vast hazelnut orchards on either side of us. The ground throughout these orchards is completely bare giving the impression of carefully raked Zen Gardens with rows and rows of trees! We finally reach the summit (still haven't seen past the trees yet!) and start a gut-wrenching ride down. Downshifting and ride the brakes appears to be best way of dealing with switchbacks so steep and tight they're more like U-turns. Reaching the bottom, Google has us turning onto a remote little road with a sprinkling of houses, but according to Google Maps, we're 2/3 of the way to our destination!
Since our route takes us right by an IKEA, we stop to return an item and enjoy their meatballs. What's very cool about this IKEA is that it has its own flyover ramp off the Autostrada! I digress for a minute to recount our recent visit to another IKEA. We entered the store to buy two comfy chairs for our apartment and left hours later with four huge cartons, and a multitude of shopping bags filled with "things we didn't know we needed 'til we saw them." What makes this funny is that our neighbor had driven us to the store in his little SUV so we could bring the chairs home. With every inch of interior space filled with our purchases (and us!) and cartons tied all over the outside of the car, we looked like the Beverly Hillbillies driving slowly home on the Autostrada! Salerno is another coastal city, like Calabria, with a confusing network of overpasses and narrow one-way streets. It lies in the 'armpit' of the Amalfi peninsula and stretches down the mainland coast for several miles. The city is long and rather narrow with a small downtown area dense with centuries-old buildings that take up an entire block. It's nice that the downtown district has a shady, garden-like promenade coast-side filled with tall trees and lots of benches. Being a bustling seaport, the marinas are numerous and traffic congestion on the water sometimes vies with that on the roads. The sleek, modern, Zaha Hadid designed port terminal sits low on the northern shore where it blends into the scenery. Watching the harbor traffic alone is quite entertaining as there's always an ever-changing variety of huge cargo ships, massive cruise liners, and boats of every size and description weaving in and out, like bumper cars on water!
Once out of the downtown district, most of the city is made up of apartment building neighborhoods with street level storefronts. Large hotels occasionally dot the coastline but, surprisingly, air-conditioning is not a given in hotel common areas. We check out several before we find one that meets our requirements: comfortable, convenient, and cool! It's only May, yet the heat is intense and suffocating! The hotel we choose overlooks the coastline and supplies a stunning view of a part of the Amalfi Coast. What is amazing is how glassy the water always appears from our hotel window. Sailboats out in the early morning look like toy boats sitting on a mirror.
Only early birds snag a parking space at the marina. The ferries leave from the far end of the sea wall which means a brisk walk through a working marina, trying to avoid dock workers while dodging cranes lifting boats in and out of the water. Most vessels you see are either small, large, huge, or aircraft carrier size. Our ride this morning is a small two-deck ferry with open-air seating on the top deck. As we board, most everyone scrambles to the top deck but not wishing to sizzle in the intense sun, we opt for shaded seats on the open front deck.
Skipping and bouncing across the water, I fill my photo library as we skirt the coastline heading west. Our shady seats afford us both spectacular views and cool gentle breezes without frying! The rapidly changing view holds our attention as we admire the dramatic coast peppered with waterline caves and soaring rocky outcroppings. In those areas where the coast dips inland there's always a small bay, a tiny beach, and a smattering of tiny houses stacked up the steep hillside. Every minute is another awesome, postcard-worthy view!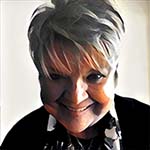 Ann Kucera is a freelance writer living and enjoying life with her husband in southern Italy