(part 2)
We bypass several little towns including Amalfi, and head straight for our destination: Positano. An hour later we dock, disembark, and pause to stare skyward, taking in this world-famous view. It's early in the day and the season has barely started, yet I'm stunned by the number of tourists here…they're out early exploring every inch of the city, much like ants crawling all over sugar cubes! Everywhere you look is a picture…seriously. The steep mountainside rising above the port looks like the side of a wedding cake 'iced' in tiny houses. And every nook and cranny are filled with vibrant flowers. I could easily spend the day capturing it all on my phone. Instead, I decide to just store the views in my mental album, but it's sensory overload, for sure.
We had watched some videos on Positano, so I was prepared for there being lots and lots of steps, just not such steep steps with few, if any, handrails. To explore any part of this small town, you must take steps, so we decide to explore only the lower levels. There are no streets this far down, only lanes and walkways, but we occasionally see a cute little one-person electric cart delivering products to the stores. High above us are small streets and even higher is the coastal highway where we note the tour buses slowly creeping along, trying to share the narrow road with cars.
It's not even noon, yet the heat and humidity are suffocating. The few places to sit are packed with visitors seeking any bit of relief from the relentless sun. Those lucky enough to secure a spot simply stay there. We stroll around on the lower levels taking in all the colorful shops. Each is a tiny jewel box filled with exquisite lightweight linen clothing in beautiful designs and exotic colors. It's interesting to note that despite this being a top tourist destination, it doesn't look touristy at all. In fact, this is a shopper's paradise because no two shops carry the same merchandise. And while I love browsing the shops and admiring the gorgeous clothing and accessories, the prices and the fact that most of these items could only be worn in places like this keeps me reined in.
As we make the circuit around the lower levels, we stop in front of a window to watch a pastry chef work his magic. I gesture to him that it looks delicious, and he points upstairs. We scale the steep steps and arrive at their air-conditioned pastry shop where their works of art are beautifully displayed and where, surprisingly, there are no customers. It was well worth the price of two coffees and two pastries to simply sit and cool off! More steps and we're at the Church of Santa Maria Assunta where we pop in to have a look (also to get a few minutes reprieve from the heat). A few more steps up and the walkway forks: one way is a cool arbored walkway leading to an unknown destination; the other way is down. We've had our fill of climbing steps for now, so we start down. There are no handrails as we descend but fortunately, I have my husband for support. The narrow stairway's twists and turns are lined with small shops brimming with colorful, eye-catching merchandise, which makes watching my step a bit difficult, as I'm easily distracted! Seems every woman I see is wearing platform wedges or stiletto heeled sandals. How they can navigate these steps is beyond me. I even saw one woman decked out in a pair of stiletto slippers with huge fluffy feathers across the toe strap! Seriously?
We play follow-the-leader as we feed through more narrow passageways of shops before spilling out into the broiling sun just above the Spiaggia Grande (the main beach). I see a Franciscan monk shrouded in his heavy wool robe coming up the staircase and all I can think is: How can you possibly be out in this heat wearing that? I feel like my clothes have melted onto my skin…and I'm wearing cotton! Every square inch of shade is occupied by those seeking relief. If the heat is this intense now, how will people endure it here in the Summer?
Deciding we've seen all we can see without ascending further up the mountain, we purchase our tickets to Amalfi Town and desperately seek out a bit of shade while we wait for the ferry. My opinion of Positano? Without question, the place is gorgeous. A true feast for the eyes with it's a riot of color and quaint uniqueness! It's best seen approached from the sea to get the full visual effect. So cute and perfect, this tiny romantic paradise could easily be mistaken for an area of Disneyland! Spending the day lounging on the beach, shaded by a large umbrella, refreshed by soft onshore breezes, and sipping an Aperol Spritz while watching the ships come and go sounds ideal to me, for sure!
Back onboard our ferry, we sit back in the shade, relax, and enjoy the cooling breezes coming through the ferry's open doorways as we skim the waves toward Amalfi Town. Such welcome relief!!!
I've always been awed by how ships (regardless of their size) use their anchors to pivot up to the dock.  Whether it's watching the larger ships fire their anchors off the bow to pivot and maneuver or the smaller boats simply dropping anchor and spinning around, it never gets old.  And it's why we choose to enjoy watching this show while enjoying a long leisurely lunch on the cool, open-air terrace of a restaurant overlooking the Amalfi marina.  There's a massive cruise ship anchored offshore, and our lunchtime entertainment includes watching the steady stream of tenders ferry the ship's guests back and forth for shore excursions.
Amalfi Town looks a bit like Positano from the sea but once we start exploring, we discover how very different it is. Unlike Positano, the few narrow streets leading to the central piazza are backed up with traffic. In fact, signal lights at either end of the narrow main street function as flagmen, alternating the flow of traffic. Amalfi being somewhat flatter than Positano, means fewer steps (unless you decide to scale the steep staircases squeezed in between the buildings). And its tiny shops offer a wide variety of wares, not just clothing, so wandering around here capturing the sights and window-shopping is much more interesting. Also, where Positano is confined and snug, Amalfi is open and airier, so it feels a tad cooler.
Amalfi Cathedral is unquestionably the hub and visual centerpiece of Amalfi.  Majestically perched above the center of town, the medieval cathedral's massive facade and imposing bell tower form the eastern side of the town square and its wide stone stairs, reminiscent of the Spanish Steps in Rome, spill down onto the Piazza del Duomo. I find this area of town the most appealing because the large open piazza allows for areas of al fresco dining, market stalls, and fountains without infringing on the flow of foot traffic through the area.  
We make a leisurely stroll through this main area hoping to find something we can't live without before we head back to the marina for our return ferry. We are fortunate to secure a shaded spot under one of the few canopies along the dock that provide relief from the sun but not the heat. While we're waiting, we enjoy watching the parade of boats and ferries of all sizes navigating through the small marina, all jockeying for an advantageous position to quickly drop anchor, spin, and back up to dock. These ferry crews are amazing as they professionally and capably help their passengers off and on these ferries like clockwork. Fortunately, we don't have to wait long before it's our turn to scamper aboard and, while almost everyone heads upstairs to the open upper deck, we quickly locate inside seats on the main deck inline with the open doorways where we know the steady cooling sea breeze will keep us refreshed all the way back!
Next up: Putting to sea to the Isle of Capri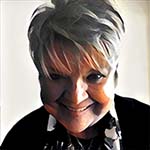 Ann Kucera is a freelance writer living and enjoying life with her husband in southern Italy