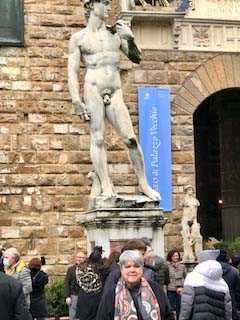 Stepping off our high-speed train in Florence feels like the end of a thrilling carnival ride; sorry the ride is over, but happy I still have another ticket. All my recent train trips have left me comfortable navigating Italian train stations and this one is no exception.
Stepping outside, we quickly realize walking to our hotel isn't practical this time as it's late and according to google maps, our hotel is almost two miles away. A twilight cab ride takes us through a dizzying network of narrow streets cobwebbed with endless strings of sparkling holiday lights.
Thinking we'd need a room only to sleep, we'd booked our hotel based on price, reviews, and convenience to the downtown area, not it's amenities. So, imagine our shock when our cab pulls up in front of this very cool hotel right on the Arno River! The interior décor is outstanding–a fabulous mixture of Modern and Art Deco, and upstairs, our beautiful room overlooks the river.
Oversize windows open wide giving us an incredible view of the riverfront and bridges. The weather is balmy enough to leave our windows open and we happily take in the sunset. Later, the view of the dark river shimmering in the moonlight, bordered with misty streetlamps looks like the cover of a romance novel.
We are enjoying unseasonably warm weather for December and this morning does not disappoint. It's a perfect day for trekking through the city. With no agenda in mind other than simply soaking in the ambiance of this home to so many masterpieces of art and architecture, we set out. A few blocks away from the river, we come to the Porta alla Croce, one of four former gates of the Walls of Florence. Interesting fact: In the past, just outside this gate, was the site where official executions were performed. Eventually the city walls were demolished during urban renewal leaving this and the other gates isolated in traffic circles.
The streets and sidewalks in the old historic center are quite narrow leaving little choice but to walk in the street. It's amazing seeing how cars and delivery vehicles manage to thread their way through. We even spy a horse and delivery wagon! I don't see tourist buses, probably because the narrow streets and intersections can't accommodate them.
Both Florence and Milan are very classy cities. Milan's populace seemed younger, more intense and vibrant; while Florence, in my opinion, feels more laid back—their residents comfortable guardians of the city's history.
Lots of people are out and about but, somehow, it doesn't feel touristy. And given the number of people I pass, I don't see any sweats, slouchy clothes, or God forbid, pajamas worn on the street. Everyone looks very put together even if they are only going out for bread. Fortunately, what visitors there are seem to be at least making an effort to fit in as I haven't seen ill-dressed tourists in either city.
To simply wander this ancient labyrinth of streets is to immerse yourself in antiquity, and I must say, it's quite like walking through the pages of a history book. Unless you're like us and have all day to wander about getting lost, you'll definitely need a map. It's not a big city, but its jumble of oddly angled streets and piazzas can leave you feeling like you're in the middle of a cornfield maze.
I said I had no agenda, but that's not entirely true. I would like to see the Duomo's dome by Brunelleschi, the Ponte Vecchio, the Uffizi Gallery, and, of course, Michelangelo's statue of David. The Duomo's dome and the Ponte Vecchio are no problem as they are outside, but the lines for the Uffizi Gallery and the Galleria dell' Accademia where David lives have lines 6 to 8 people wide and snaking around several blocks. These last two will be earmarked for our next visit when I'll be sure to make reservations for both beforehand!
Strolling these streets is like wandering through a fairyland of tiny lanes lined with charming shops and cafes. I love going in these tiny shops because the shopkeepers are friendly and helpful, and they only sell products, no souvenirs. Shopping in Italy is a totally different experience from what I've known my whole life. Shopkeepers here are warm and welcoming, allowing you to wander and examine their offerings without trying to sell you something. Hmmm…., perhaps, I think to myself, I should look for a bag to replace my well-traveled, well-worn current one. I have in mind to simply buy a new model of my current one, which, given its age, is probably no longer made.
Stepping inside numerous shops to see if I can spy one, I soon realize I'm being too easily distracted by all the things I'm not looking for and decide to table my search. We continue our wanderings, stopping periodically to gaze in awe and admiration at something before adding its image to my photo library.
Turning a corner, we stare in utter amazement at the length (and width!) of the line flowing far down the street outside the Galleria dell' Accademia, all waiting patiently to see David. Standing hours in line is not my idea of the best use of my time. David will simply have to wait to see us until the next time we're here and I've made reservations.
Not far from David's place, we pass a shop specializing in all things leather. The window displays catch my attention, and I'm curious to peek inside. The interior is a riot of very colorful leather goods of every description covering every square inch of space. It's sensory overload and my eyes simply don't know where to look first. While I'm trying to mentally sort through everything I'm seeing, I hear a voice ask, 'Can I help you'? Perfectly blended into his surroundings, I don't see him until he stands up. I explain I'm in the market for a microfiber bag like the one I'm using, and he suggests a similar style in leather (of course he would!). I admire its beautiful color, its exquisite handmade craftmanship, and even go so far as to try it on but though it most certainly fits my needs, I stubbornly declare I'm really wanting another black microfiber bag. For having wasted at least an hour of his time without making a sale, he couldn't have been more gracious. We leave and I make it about a block down the street before I realize that I really love that bag and return to make it my own.
A sidenote here: The reason I make this part of this episode is that it illustrates what's been my overall experience shopping in Italy. Pushy, fast-talking, or worse yet, disinterested salespeople don't exist here, or if they do, I've yet to see one. Here, respect and appreciation are given to customers. No matter where I am or what I'm buying: groceries, office supplies, clothes, or just a screwdriver, the way I'm treated is vastly different from what I've been accustomed to all my life. Here, I'm politely acknowledged, pleasantly offered help when asked, and always shown genuine appreciation for my business. The whole experience is incredibly satisfying for both parties!
We slowly wander the streets, trying our best not to look touristy but finding it hard to not stare open-mouthed at everything we see. The streets aren't particularly crowded but it's probably because they're all either in line back at David's place or here at the Uffizi Gallery where the line length and width is just as jaw-dropping. Sheesh… Next visit I'll make reservations, for sure!
Outside, in the Piazza della Signoria, stands a full-size replica of David in the original's position before it was moved indoors to the Accademia Gallery. He (the replica) is impressive, all right, but being easily accessible and not quite as pristine as the original leaves me feeling like I've gotten a consolation prize.
Up a few steps and we're at the Ponte Vecchio. Lucky for us everyone else is in line back in town so we and a few other window shoppers pretty much have the bridge to ourselves. Teeny-tiny shops line both sides and we all take turns ogling and pretending we can actually afford something in these windows stuffed to overflowing with all manner of exquisite gold and diamond jewelry.
We cross over and decide to walk back to our hotel along this side of the river. Tired from walking, filling my photo library, and window shopping, we hunt for somewhere interesting to rest and re-fuel. Plates of freshly roasted chicken displayed in a restaurant's front window catch my eye and we turn in.
An hour later we're back strolling next to the river and marveling at the unique spillways that calm the water. Back at the hotel, I check my phone's pedometer and see it's been another 8-mile day. What is it with 8 miles? That appears to be our range, I guess.
Global warming has us enjoying very balmy weather at the end of December; warm enough to sleep with our windows open. And while I'm loving being able to trek through the city without being bundled up like 'Nanook of the North', it's still very weird.
I'm sitting in the hotel's dining room this morning, patiently waiting for the coffee machine to be refilled, when a guy at the table one over from me breaks out softly singing 'Lollipop, lollipop….' This is so unexpected; I almost lose it. I'm sure he didn't realize anyone heard him, but still…
We decide to have a leisurely morning because we'll probably log in another 8 miles walking around the city tonight taking in all the Christmas lights. All this unusual weather beckons us to leave our hotel and simply enjoy the warm sunshine. Situated directly across from our hotel is a lovely park of huge ancient trees, charming walkways, and scenic riverside views. The aroma of a freshly made caffe' lures us over to the park's cute little riverside outdoor café. And now comfortably settled with our brews at a table in the warm sun, we watch as kayakers lazily make their way upriver.
It's close to dusk, so we figure the streets should now have their holiday lights burning brightly. We take the same route we took before as it seems to be one of the main ways into the city center. Surrounded by so much color and brilliance, it's very much like walking through tunnels of fantastic light displays. Surprises await us around every corner it seems; from entire buildings lit up with animated figures marching and dancing across their facades to brightly lit merry-go-rounds and Christmas kiosks, even a bizarre Jeff Koons exhibit! We're quickly learning to expect the unexpected!
Strolling around soaking up so many visual delights has caused us to lose track of time, completely forgetting we haven't eaten since breakfast. Stalled for the moment on the Piazza della Repubblica, a main square which marks the center of the city since Roman times, we look around and choose to dine at a lovely outdoor restaurant amid all this colorful commotion. Surrounded, as we are, by a profusion of fascinating lights, decorations, and an abundance of holiday activity, we savor our fabulous meal in the best dinner theater we could possibly imagine!
Leaving the Piazza, we enter a very upscale shopping district of haute couture and designer labels. Just like in Milan, the store windows are works of art and worthy of a few minutes of my time admiring the amazing creativity on display.
We emerge one bridge north of the Ponte Vecchio and take a few minutes to admire the picturesque ribbon of river shimmering in the moonlight. Taking advantage of such mild weather, we decide to walk along the river back to our hotel. I recognize this area from several movies we've seen over the years and stop to capture it all in photos we can enjoy later.
Back at the hotel, I check my pedometer expecting to see another 8 miles but instead, it shows only 6 miles today. Hmmm…we must have taken a shortcut.
NEXT UP:  Zigzagging around a virus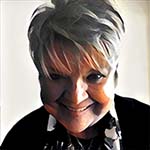 Ann Kucera is a freelance writer living and enjoying life with her husband in southern Italy