I spied the first banner while walking to the local grocery the day we moved here. About 12 inches square and made of satin, it hung next to a front door and depicted an elegant lady reclining on a chaise with the word Filomena scripted across the bottom. I noticed our neighbor had a similar one on their front gate but since the wife's name is Filomena, I thought possibly it was for her birthday since there were flowers attached to it.
Over the next several months, I observed the same depiction on countless banners and painted tiles all around town. I eventually learned these various displays were all honoring a saint by the name of Filomena. And since the religion of Italy is Catholic, I figured Filomena was most probably our little town's patron saint.
Since our days here in Italy are filled with countless activities, inquiring about this seeming obsession with Filomena wasn't a priority. Then one day last week, I passed yet another banner on the street and my curiosity finally got the best of me.
I asked our local authority, Joe, about it. Yes, he confirmed, Filomena is our little town's patron saint, and he then went on to tell me a brief story about how this young girl was beheaded by some emperor for refusing to marry him. And her remains are on display in the church just around the corner from where we live.
WHAT????
Curious to know more, I ask Joe if he'll take us over to see her remains. We pull up in front of the somewhat plain looking church on the town square that we've walked past dozens of times completely unaware of the fascinating sights tucked away inside.
It's late afternoon when we enter this magnificently beautiful sanctuary and our heads start swiveling, trying to take it all in. We make our way up to the front of the church where a tiny nun is busy preparing the altar for the evening Mass.
Joe tells her we have come because we are new residents here and are not familiar with the story of St. Philomena. Busy as she is, she graciously takes time to take us on a tour of this incredibly beautiful shrine and tell us this young girl's fascinating story.
Our tour includes the alcove where the beautifully dressed remains of St. Philomena recline on a small chaise in the recess above us. Because her absent head has been replaced with a ceramic head and her remains are dressed in elaborate clothing, she has the appearance of an oversized doll. Under her pillow is the vial of her dried blood found in her tomb. All the artifacts, including the inscribed terra cotta tiles from her tomb are displayed throughout the sanctuary in separate alcoves each elaborately adorned.
Just when I think we have marveled over every inch of this shrine, she takes us down a hallway to the museum where each stage of St. Philomena's tragic and horrifying life is depicted in life-size dioramas. This young girl's dreadful life sounds like the plot of a horror movie, and we are held captive by the nun's recounting of her story:
Philomena's family ruled the Greek island of Corfu in the 3rd century. Despite praying to their gods, her pagan parents hadn't been able to have a child. When they realized their prayers weren't being answered because their gods were false and did not exist, they converted to Christianity and in the year 291 were blessed with a daughter. They named her Philomena, meaning 'lover of light.' She was raised in the Christian faith and developed a strong love for Christ.
At the age of thirteen, Philomena traveled with her parents to Rome to try to make peace with the Roman Emperor Diocletian who had threatened Philomena's father with a war. When her family met with Emperor Diocletian, the emperor was so taken with Philomena's beauty, he insisted that she marry him. Philomena refused, though, stating that she had promised herself to God and would never marry. Angered at her rejection, the emperor had her thrown into a dungeon.
He made several other attempts to persuade her to marry him – but each time she stated she would not marry him because she had consecrated herself to God. The emperor had her beaten severely, almost to the point of death. She was bound to a pillar and flagellated mercilessly then brought back to the prison to die. There she was visited by the Virgin Mary who told her she would suffer much but her faith was true, and she was strengthened by God and continued to live.
In another attempt to kill her, the emperor had his men take her to the river and tie a large anchor around her neck. He was sure that this would terrify her into agreeing to marry him. But he was wrong. Again, she rejected his offer of marriage and so she was then thrown in the river to drown. Yet, she survived. Frustrated, the emperor had his men throw her in the river again. And once more, she survived. Wholly angered at his inability to convince her to marry him, as well as his inability to kill her, Emperor Diocletian ordered his men to shoot her with arrows until she was dead. The arrows simply bounced off her and still Philomena survived.
The people of Rome who watched these events were astonished at Philomena's faith. She was just a young girl but, her strong faith carried her through the pain of torture and the many attempts to kill her! Seeing this caused many Romans to begin believing in the power of God, and they converted to Christianity because of Philomena's example. Emperor Diocletian became even more enraged when he found out the people of Rome were turning from the false gods and converting to Christianity. Determined to put a stop to his embarrassment from Philomena's rejection of marriage and his failed attempts at killing her, Emperor Diocletian ordered that she should be beheaded. Philomena was martyred for her faith in 304.
The tomb of St. Philomena was inscribed with the words "Peace be to you, Philomena" and the symbols of two anchors, three arrows, and a palm. These symbols were a sign that she was a virgin and martyr. Her story was lost to history until an archaeological dig in the early 19th century in the catacombs in Rome discovered her tomb. Encased in terra cotta slabs, the archaeologists knew this was a tomb of a person of importance since this type of burial was given to nobility and great martyrs. The emblems of a lily and a palm were cut on the tomb indicating her virginity and her martyrdom. There was also an anchor, a scourge, and three arrows, two pointing in opposite directions, and one with a curved line upon it, signifying fire, and intended as a symbol of the different tortures the martyr endured.
When they opened her tomb, the archaeologists found the body of a fourteen-year-old girl, as well as a vial of her blood signifying that this was a Martyr. Her remains were kept in Rome until 1805 when a young priest made a request that the Vatican allow him to obtain a relic for the new altar in the church in Mugnano. Because he felt a spiritual closeness when he was near her remains, he was allowed to take the relics of the virgin martyr back with him. Before her remains were transferred to the church, they were put on display in Naples. Almost immediately, there were reports of miraculous healing. On August 10, 1805, her remains were transferred to Mugnano del Cardinale, an Italian village near Naples and a cult rapidly grew. This is where they rest today. During the transfer process, miraculous events began to take place and when the remains were brought to the village church, graces, favors, and miracles began to occur among the village people and in the nearby vicinity.
Miracles continued to occur year after year and in 1837, the Pope elevated Philomena to Sainthood.
I'm amazed that all this history is just around the corner from us!
It's late afternoon as we leave the church and Joe says he has a special place nearby he wants to show us. We turn off the village's main street and head up a street which appears to scale the mountain directly in front of us. After a mile or so we take a sudden turn. I trust Joe is familiar with this area because the dirt strip we turn onto isn't my idea of a road. We rumble along for a bit through ancient olive groves with no indication of a destination. Luckily, we still have the dwindling daylight assuring me there's still a path in front of the car. I can't imagine anyone coming up here at night.
The dirt strip has turned and for a brief time, we skirt the mountain before the path abruptly ends at a small church perched on an outcrop. It's eerily quiet up here but quite serene. Joe tells us it's where he comes sometimes to meditate, and I can see why. We walk over to the edge of the churchyard, which overlooks hundreds of gnarled olive trees, to take in the view. We're quite high up and able to look down on our little town spread out and magically twinkling below us.
He then tells us the amazing story of this place: Many years ago, a nun from our village started walking up to this place everyday as she meditated. At that time this area was just scattered rubble, ruins from an ancient structure. It was an area commonly used by drug addicts and therefore littered with needles and such. As the nun meditated, she stacked up stones from the rubble and picked up used needles and trash. She found a broken crucifix, repaired it and placed it on the stones. Over the next three days she returned daily to find more needles, trash, and the repaired crucifix once again in pieces. Still, she tidied the area and repaired the crucifix. On the fourth day, she found the crucifix unbroken and a note that read 'thank you.' When word got out of her daily pilgrimage, funds were allocated for the rebuilding of the old church.
The nun lives here to this day. She is quite elderly now and when her age and health became a concern, two other nuns joined her in living here full time. We had the opportunity to meet them as well as witness one of the spectacular sunsets they enjoy every day. This is a site of peace and serenity. It is a refuge for those seeking a place to pray and meditate and for that reason, its existence is probably limited to just locals.
Both these incredible places are literally on my doorstep and yet remained unknown to me until my curiosity prompted me to ask Joe, our recent docent.
When we moved to our little town six months ago, I couldn't imagine just how perfect this place would be. Surrounded by all these ancient landmarks and lore, it's like we're living in a history book!
NEXT UP:  1 car, 2 people, 3 seas, 4 regions, 5 days……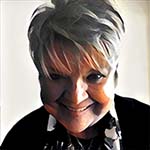 Ann Kucera is a freelance writer living and enjoying life with her husband in southern Italy