The long weekend of Carnevale is another opportunity for a trip. This time we decide to go off the beaten path and do a very 'un-touristy thing' by driving around the entire coastline of southern Italy. Our route will take us east from our little town straight across the entire country to the eastern coast where we'll turn south and follow the coastline down to and around the 'heel', the 'instep', and the 'toe' before heading north up the western side to Salerno and back home. We rent a zippy little red Audi 5-speed for our trip and take to the road in perfect spring-like weather! Zooming over the gentle hills, we can't help but marvel at the sweeping view before us. The hills, so green it hurts your eyes, are peppered with flowering trees and shrubs and the textured patchwork of crops, groves, and vineyards give the impression we're driving across a lush green quilt. Ancient olive groves carpeted in brilliant yellow wild Mustard line the highway for miles on end and occasionally we pass fascinating old structures being reclaimed by the land which lend a certain charm to our view.
When we reach the stunning turquoise waters of the eastern coast, we turn south and begin following the coastline. We exit at Bari, the largest port city on the Adriatic coast, and weave our way through the downtown area until we run out of road at the water's edge. Bari's modern cable-stay bridge is the backdrop of this city's interesting mix of Romanesque and neo-Gothic Venetian architectural style buildings and narrow, winding alleyways. We slowly cruise down the promenade so we can better see a group of sail boats just off the coast, their white sails looking like rows of shark teeth. We are in an area of southern Bari known as Torre a Mare and on the southern horizon, towards Brindisi, clouds are gathering so we start looking for a place to lay our heads for the night. We don't like making advanced hotel reservations, preferring to eyeball our options before choosing. But with this being the end of February, our options are very limited because most places are still closed for winter. Just when it looks like there won't be anything until Brindisi, we spy a very large shoreline hotel towering ahead. According to the sign, it's a conference center/resort/hotel…and it's open!
Checking in, they tell us we are getting their best room…but that's because, if the empty parking lot is any indication, I think we are their only guests. It's eerie to be the only guests in a very large hotel. Cool, but very strange. Dinner in the hotel's restaurant makes me a bit uncomfortable because I know they had to open their huge kitchen just for our order! Our very attentive waiter suggests a sweet dessert wine, Passito, to end our meal. Known as Italy's raisin wine, it's made from dried grapes and now it has a new fan!
Morning of day two finds us traveling coast side for a bit before turning inland to Alberobello, the village known worldwide for its Trulli houses. Our navigation app is showing the village to be straight inland from the highway but, halfway there, google maps decides to re-route us over a gigantic mountain which, though a bit irritating, is nevertheless providing us jaw-dropping views across the plains we wouldn't have enjoyed otherwise. Alberobello, a life-size fairyland village, looks like it was plucked right out of Disneyland. In fact, I wouldn't be surprised to see Tinker Bell any minute! Most of the village is pedestrian-only (no cars allowed), which makes strolling the tiny lanes lined with Trulli houses such a pleasure. Many of the over 1000 Trulli structures house charming little shops filled with handmade wares and local products. I'm lured into one such shop, a minuscule ceramic gallery filled with an interesting assortment of beautiful items, where I purchase a tiny ceramic Pumo, a pinecone which I'm told will bring prosperity and good luck.
A bit further up the lane, a woman is seated in her shop's doorway tatting lace. Seeing her reminds me of watching my grandmother work magic with her hook and thread. This woman's handmade products are truly gorgeous, and inside her tiny shop, you can purchase the beautiful results of her time and talent
Up ahead, I spy a rack of small picture books outside another shop and stop to investigate. Watching me thumb through the pages, the shop owner invites us in. Her shop is a gourmand's delight – every inch filled with edibles and intoxicants of every description. She tells us she also has a romantic BnB nearby in one of these cute Trulli structures in case we decide to overnight here. After sampling several of her incredible offerings, we leave with packages under our arms and smiles on our faces knowing she'll ship our choices when we run out!
Back on the coast road, we skirt Brindisi and continue down to Lecce, known for its baroque buildings and sunken Roman amphitheater. The coastal town of Santa Maria di Leuca on the very tip of the 'heel' is our destination for today and where we plan to overnight. According to lore, this seaside town takes its name from 'Leucasia', a beautiful mermaid who conquered sailors and farmers with her charming voice. The coastal village is quite picturesque and would have been a wonderful place to spend the night if anything had been open. We watch the incredible sunset then head north hoping to find an open hotel. The Ionian shoreline, marvelous as it is, offers no open accommodations so it's not until we reach Gallipoli before we have some options. We score big time when we find a little jewel box of a hotel in the very heart of this ancient seaport town.
The idea of enjoying dinner in a warm, cozy little restaurant brings us out in the cold evening rain. A few blocks away from our hotel, we find an intimate little café with a tiny dining room below street level. As we descend to our table, we pass a display of fresh fish on ice where we choose our entrée and later watch as our waiter meticulously de-bones our fish.
Day three finds us picking our way through an intimidating network of highways and bridges, threading our way through a vast area of foundries, refineries, factories, and shipyards in the large commercial port of Taranto, the third-largest continental city in southern Italy. According to sources, this city was founded by Hercules! We'd like to visit the 'old city' located between the city's two bays and accessed by a swing bridge, but the clock is ticking, so that excursion must wait for another time.
We drive coast side along the entire 'instep' of the boot today, setting our sights on overnighting somewhere along the eastern side of the 'toe.' There's not much to distract us traveling through these coastal deserts for the simple reason there is only the Ionian Sea and the road to look at. While the view is beautiful, the monotony of the landscape is quite tiring.
Late afternoon, we begin exiting whenever we see a town in hopes of locating an open hotel, but no such luck. In town after town, anything remotely resembling a hotel is closed and shuttered. Most of these small beachfront villages remind me of Florida's shoreline about 65 years ago. Finding nothing, we return to the highway, resigned we will have a long drive ahead to the next large city before we find a bed.
It's dusk now and we seem to be the only ones on the road. The sea is far to our left now but hidden from view and there seems to be nothing for miles on either side of us but trees. Suddenly, we both catch sight of the top of a hotel deep in the trees and as we pass, it looks like a van parked in front of it. It's probably closed but still we turn around. Since there's no signage to direct us, we take what we think is the exit for it and slowly pick our way along a very dark, potholed road to the entrance. Our hopes soar when we see a few cars parked in front of this massive hotel.
My husband checks and returns to the car a few minutes later with a big smile on his face. As I step through the front doors, my jaw drops. Before me is an enormous elegant, marbled lobby that looks straight out of a 1950's movie. The luxurious furnishings are lit by massive, multi-tiered crystal chandeliers glowing above me. This is glamour with a capital G!!! I look around expecting to see a snappy, uniformed bellhop eager to take my bag. Instead, on the far side of the lobby, perched behind an exquisite marble counter running the length of the room, sits a silver haired gentleman. He rises and greets us warmly as we check in, then ushers us up to our luxury room. Again, we appear to be the only hotel guests as there's no one else in sight, staff or otherwise! Because it's dark, we don't discover the enormity of this place until the next morning when I open the drapes and walk out onto our large balcony. Taking in the view before me, I gape at the enormous swimming pool with large islands of palms and arched garden bridges in the middle. A gigantic courtyard surrounds the pool which is bordered on the far side by a duplicate of the building we're in.
Downstairs, we pass through several large and elegantly furnished reception rooms before finding the breakfast buffet. We marvel at all the rich furnishings and lavish décor and, seeing as we seem to be the only guests, wonder aloud how they can keep such a huge facility open with practically no guests. We finally see a few other guests before we leave, but still….
I make it a practice to always ask permission before writing about something in this blog. And it's when I venture downstairs to discuss this with someone, that I meet Sebastian, the hotel's very charismatic director. My fascination for this place must show, because he introduces me to his boss (the owner?), and Maria, the hotel's Spa manager. Sebastian and I sit in one of the reception rooms as he tells me all about this hotel/resort. It's marketed as a vacation destination as well as a venue for weddings, reunions, celebrations, business conferences, and such and during the season, it accommodates 400+ guests per night! The complex has its own restaurant out on the beach with van service to and from the resort and hosts live concerts in the gigantic poolside courtyard during the summer. He tells me they are especially proud of the hotel's spa & wellness center which is itself a well sought out destination. Then offers to take us on a tour of it.
Now spas are pretty much the same, so I really don't get his eagerness to show off this one but, I graciously agree to a tour.
Descending a marble staircase romantically decorated with roses, we enter the Spa's lobby where the serene atmosphere is fresh and lightly fragrant. Sebastian shows off a surprising number of private treatment rooms and a fully equipped gym. Walking on, we approach a set of beautiful double doors and I note a faint, soothing sound of flowing water. Opening the doors, he reveals what he says is their showplace. Before me is a dark, cavernous room bathed in dreamy blue light. In the middle of this vast space is a huge, gently bubbling, heated pool complete with waterfalls. Surrounding the pool are comfortable, oversized chaise lounges upholstered in white leather and the entire spac eis romantically lit with multitudes of candles. As if this wasn't enough, glass walled rooms running down one side offer massage, a Finnish sauna, a salt cave, a Turkish bath, a private Jacuzzi room, and even a room where you can sit and wiggle your toes in warm sand on a radiantly heated floor! Wow, is there anything they don't offer?
After our tour, I view their website and realize what an incredible destination this is. And for one night, it seemed we had it to ourselves!
A quick scan of the road map tells us there won't be much to see if we continue south along this seaside road and circle the 'toe.' I've seen enough of 'just road and sea', so we backtrack a bit, then cut across to the Mediterranean side and head down the top of the 'toe' to our next destination: Reggio Calabria. This route south takes us through towering mountains with breathtaking view of the Tyrrhenian Sea, and within 2 miles of Sicily at the Strait of Messina. The road goes through loads of towns offering us incredible views of picturesque villages spilling down distant mountainsides, bottomless gorges, soaring mountains, and, of course, the vivid blue sea.
This leg of our trip is anything but a monotonous drive! There are so many tunnels bored through the mountains, I lose count. We no sooner exit one before we enter another. And when we aren't in a tunnel, we are on a bridge crossing a bottomless gorge. Since my husband can't take his eyes off the road to see all this, I fill up my photo library for him to enjoy later.
We arrive in Reggio Calabria midafternoon and cruise along the shoreline promenade taking in the sights and hoping to spot a seaside hotel. We see several but none with parking and with this being Carnevale weekend, every curbside space has a car squeezed into it. After navigating the steep streets for a bit, we spy a nice hotel at the bottom of a steep street. We pull over and I jump out to inquire. Jackpot! Not only is it a superb hotel on the shoreline promenade, but it also has offsite valet parking and bellhop service. We check in and immediately take a leisurely stroll along the vast, impressive, and exquisitely beautiful promenade running between the town and the sandy beach below. Ships and boats of every size and description dot the water with the magnificent Mt. Etna serving as a backdrop. The weather is ideal for a late afternoon stroll, and I heat up my phone capturing images of massive trees, interesting art installations, and, of course, the majestic views of Sicily, Etna, and the sea. Later, the hotel's glass sided rooftop restaurant provides a very romantic dinner view of the twinkling lights along the Sicilian coast.
Our fifth and final day is a long one.
The weather is overcast which isn't a surprise since it rained last night but, getting out of the city is proving quite a challenge. We can't depend on google maps because most of the streets have been blocked off for Carnevale celebrations and traffic is at a standstill. It looks as if the entire city is trying to empty onto a one lane street going south and we are looking to go north. Inching along for a bit, we look to skirt the traffic snarls by turning up a tiny residential side street hoping to find an alternate way to access the highway north. Frustrated at not finding another side street we can turn down; we thread our way through several blocks of cars parked along both sides and are speechless when this tiny residential street ends up being the entrance ramp to the highway heading north!
We drive quietly for a while, utterly amazed at what just happened. Finding this entrance to the highway must be the good luck of the tiny pinecone I bought in Alberobello! The weather is so overcast, we don't have the views we enjoyed coming down. With the mountains once again looming ahead, I turn and focus on the hilly landscape off to the east where I see mist blowing across the distant hillsides. Rain, perhaps? A moment later, I realize it's snow. Yep, big fluffy bits of snow whirling all around us.
So let me paint you a picture: Here we are, zipping along at the posted speed limit while being passed every minute or so by drivers doing at least 40km over the limit. The road traverses a topography that undulates in the extremes. In the minute or less we aren't inside a tunnel, I'm either looking up the face of a mountain soaring straight through the clouds or peering down a massive bottomless ravine. It's cold and very windy and we're driving through a snowstorm. We consider pulling over at a service area, but the snow is building up on the shoulders. Afraid of possibly getting stuck, we drive on. Talk about stress…. sheesh!
I set my teeth, thinking that if the road should become impassable, at least these long tunnels have lights and a phone…then in an instant, we exit a tunnel into glorious sunshine and magically, it's springtime again!
Our goal with this road trip was to experience the real side of Italian life in vast regions of this country by traveling off the beaten path.
Well, mission accomplished!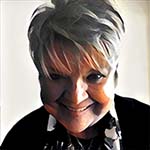 Ann Kucera is a freelance writer living and enjoying life with her husband in southern Italy