We just received this message from our friend Camille Di Trani. In the past weeks we helped Camille to find her Italian roots.
Without the birth town of her family it was really as difficult as to search a needle in a haystack!
But our professional genealogists in few days were able to solve this mistery: Camille's ancestors were from Moliterno (Potenza province)!
This is her message:
My husband and I have both been very interested in finding our family roots.
Previously this year we headed to England and Scotland to locate the ancestral roots of his family.
Much of his ancestry is readily available and was pretty easy to access.
On the other hand, I was having great difficulty finding any hard data as to my ancestry.

That's where ItalianSide enters the story! I had very little information to give them.
I had my paternal grandfathers name and date of birth, his parents names, and where I thought he was from.
We had already left for Italy and were on the Ligurian coast when, amazingly, genealogist Tiziana was able to find my grandfathers birth record in Moliterno!
This was not even on our radar as a potential birth place!
ItalianSide was able to get this information in a very short amount of time as I was having email issues!
I am SO pleased that with their help ItalianSide enabled me to connect to the place of my ancestors.
Moliterno is a lovely and the people were so helpful, warm and inviting!
I would highly recommend ItalianSide to anyone looking to establish their ancestry in Italy.
Amore alla Italia, Basilicata, Moliterno!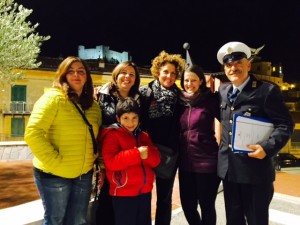 Thanks to you and your team for everything!
Camille DiTrani