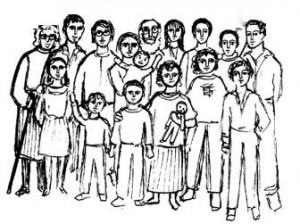 Many friends asked us the translation of family members in Italian.
For people interested in their "Italian Side" it is important to give the right name in Italian to understand ties of kinship in their families.
But we did something more: we added the Italian pronunciation.
In this way we hope that you will be able to learn some italian words related to family.
Here is the first list of useful words.
If you click on the icon
you will hear the Italian pronunciation spoken by native Italians.

Family = FAMIGLIA
Mom = MAMMA
Dad = PAPA'
Mother = MADRE
Father = PADRE
Parent= GENITORE
Parents = GENITORI
Son = FIGLIO
Sons = FIGLI
Daughter = FIGLIA
Daughters = FIGLIE
Brother = FRATELLO
Brothers = FRATELLI
Sister = SORELLA
Sisters = SORELLE
Wife = MOGLIE
Husband = MARITO

Are you ready for the second lesson ? If you are, you can go here

(powered with Forvo)