The Voice of Italy – Suor Cristina wins again!

Tonight for the second time Suor Cristina was on the stage at the "Voice of Italy" talent show.
Now…try to guess what song a nun will sing….I bet that no one of you will give the right answer.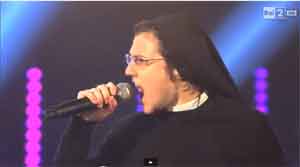 This time for "the battle" the nun sang "girls just want to have fun" a hit of Cindy Lauper directly from the 80s.
So this song became a sort of "nuns want to have fun too" and everybody had fun again!
The Coach J-Ax had to choose the winner and…
You will not be surprised if we tell you that Suor Cristina won again her battle !
J-ax says "when Suor Cristina sings she gives happiness to the people"
This is true, Suor Cristina "just wants to give joy" and this time again all the public is for her shouting "sorella sorella" (sister sister)
This is the new video…so..have fun you too!