Everyone has a story: tell us yours!
stories@italianside.com
---
Our Italian Journey

Part I

by Virginia M.
If you never, never go, you'll never, never know just how beautiful the Italian landscape, Cities, food and people are.
And furthermore if you have Italian ancestry, then you must go.
I first began looking into my Scottish and English heritage in 2011. I joined ancestry.com and along with the help of my grandfather's diaries and a second cousin also interested in our past, we were able to piece together a history dating back to the 1700. I am sure there is more to find, but early in 2012 I began the task of searching for my husband's ancestors in the Naples and Sicily regions.
It seems the Italians take a different view to their family history and what they will divulge. I was able to get some information from Ancestry.com and the Australian National Archives but after trawling the net I came across ItalianSide.com.
With their help I was able to obtain birth certificates and certificates of residency. We had new information. My husband's father had been born in Terzigno, not San Giuseppe as we had been told.

We had an address in San Giuseppe where the family had lived before moving to Australia. We had a certificate of demobilization from the Italian Army dated 1919. Could we perhaps get his military records?
Unfortunately the authorities in Sicily had been less helpful.
But as at ItalianSide said, Municipalities are not obliged to help.
Armed with the little information we had and with a desire to know more, my husband and I along with his sister and her husband decided to do a fact finding tour, combined with a holiday, to Italy.
The trip was ten months in the planning. We arrived in Rome on the 14th December. For the first time ever, we were having Christmas and New Year away from family, grandchildren and friends and, in the Northern Hemisphere.
In Rome we visited the Ministry of Defence looking for military records of their grandfather, Stefano Miranda from 1919. Although we had a letter of introduction, this turned out to be the wrong place. The people were very helpful and gave us a contact address for the correct place. We must write thought, as they don't take visitors.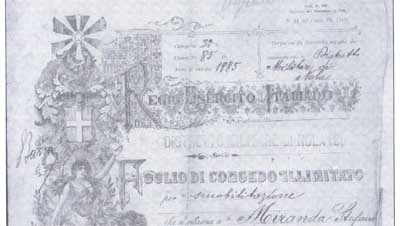 When in Rome you must visit the Palazzo Valentini. The archaeological remains of ancient Roman houses have been uncovered beneath the Palazzo. Mosaics, wall decorations, paving blocks and polychrome floors dating back to Emperor Hadrian years, lay below a glass floor.
From Rome we took the fast train to Naples; great way to travel, comfortable quick and easy. We purchased our tickets on line before leaving Australia and only had to show them on the train. No need to validate them. Everyone seems to have their tickets on their IPad or their IPhone; no paper….Part TWO